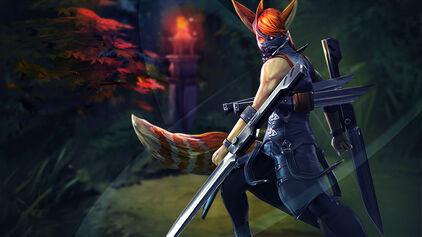 Attack Type: Melee


Position: Jungle
Role: Assassin
| | | | |
| --- | --- | --- | --- |
| Hit Points (HP) | 741 (+74) | HP Regen | 3.51 (+0.35) |
| Energy Points (EP) | 180 (+22) | EP Regen | 1.33 (+0.16) |
| Weapon Damage | 62 (+5.7) | Attack Speed | 1 (+0.033) |
| Armor | 23 (+4.5) | Shield | 20 (+4) |
| Attack Range | 2 | Move Speed | 3.4 |
Taka weaves through the battlefield, eliminating targets with his switchblades. He lives on the knife's edge, compensating for fragile defenses with agility and stealth.
.

House Kamuha
Edit
Slot: Heroic Perk

Taka's Critical Strikes have 30% lifesteal and grant a burst of speed. Every 5 seconds, Taka is guaranteed a critical strike. Taka gains 1 Ki stack when he performs an ability or critical strike (up to 5 stacks). Each stack of ki speeds up his guaranteed critical strikes 0.9 and grants 25% cooldown acceleration.

Slot: A

Taka flips over his target, cutting it with his switchblade. Taka doesn't take damage while in mid-air.
Slot: B

Taka throws a smoke bomb at his feet, vanishing from enemy sight and gaining move speed. This illusion ends early if he strikes a target or he takes direct damage. Turrets, Scout Traps and Flare Guns will see Taka while invisible. When maxed, this ability heals Taka for 1% of his max health per second while invisible.

Slot: C

Taka bursts through his target, carving an X with his switchblades for lethal damage. The target suffers a mortal wound, reducing its healing by 50% and taking damage over the next 4 seconds.