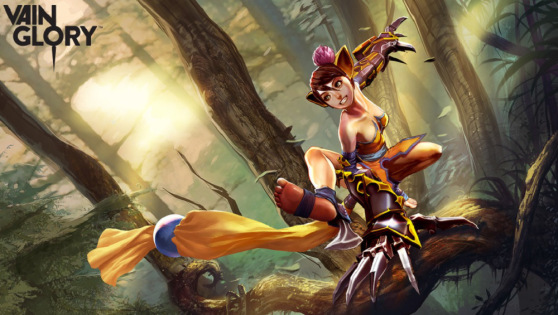 Vainglory is a multiplayer online battle arena (MOBA) video game by Super Evil Megacorp for iOS and Android. Designed for mobile platforms, it is a simplified version of the PC-based genre wherein two opposing teams of three players fight to destroy the enemy base by controlling the path between the bases, which is lined by turrets and guarded by enemy minions. Off the path, players battle for control points that supply extra resources. The game was released for iOS on November 16, 2014, after being soft-launched for over half a year. The Android version is expected in 2015.
The game's development began in early 2012 when Super Evil Megacorp was formed by a team of game development veterans to design and build a MOBA for tablet devices. The game was unveiled at Apple's September 2014 iPhone 6announcement event to demonstrate the platform's Metal graphics API. The team sought to make a game that would entertain players for thousands of hours and encourage in-person multiplayer experiences similar to that of a LAN party.
Vainglory received generally favorable reviews. Critics praised the game's graphics, characters, and level design, but criticized its lack of team communication features. Reviewers disagreed on the game's degree of accessibility to newcomers. The Guardian named Vainglory the "best" iOS game of 2014.
Welcome to the Vainglory wikia
Edit
Hello,Welcome Vainglory wiki! I made this wiki that people can share info and talk more about the game and more.... if u don't know what the game is or have heard and haven't tried.Then try it and what u thinking about the game. Thx for reading this and good luck! :D
Others Vainglory Forums and Groups
Edit
http://vainglory.gamepedia.com/Vainglory_Wiki
http://www.twitch.tv/vainglory
https://www.facebook.com/vainglorygame
http://forums.vainglorygame.com/index.php
http://forums.vainglorygame.com/index.php?threads/vainglory-europe-facebook-group.4862/
https://www.facebook.com/Vainglorythailand
Latest activity
Edit
Photos and videos are a great way to add visuals to your wiki. Find videos about your topic by exploring Wikia's Video Library.